—
The Journal Sentinel selected 100 Southeastern Wisconsin companies for this award based on comments from employees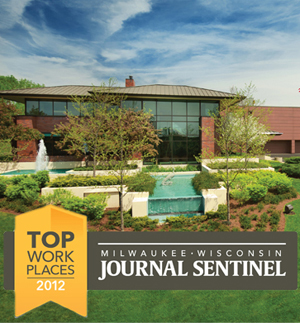 Milwaukee, WI – May 23, 2012
Paper Machinery Corporation won the Milwaukee Journal Sentinel's "Top Work Place" Award for the third straight year, taking one of the top 100 positions in 2012 and 2010 and one of 20 honorable mentions in 2011.
"This award means a lot because our employees were surveyed and their responses about how they feel about working for Paper Machinery Corporation is what won this award," stated John Baumgartner, President of Paper Machinery Corporation
The Journal Sentinel teamed with Philadelphia's WorkplaceDynamics to survey companies' employees and analyze the data. Results are based on statements of how employees feel about their workplaces. "Paper Machinery allows me to always try and improve things, and they are always open to listening. Also, they are very good to their employees which makes it easy to come to work everyday," was among the statements from PMC employees.
Alan Schmidt, PMC's Human Resources Director said, "PMC welcomes highly motivated, quality conscious individuals to our team. The company encourages employees to pursue a balanced life, fosters a strong sense of participation, and values mutual respect and the opportunity to achieve and advance." PMC is known for mutual loyalty between employee and employer.