—
Paper Machinery Corporation Will Exhibit At Expo Pack Mexico 2013 – Booth 1832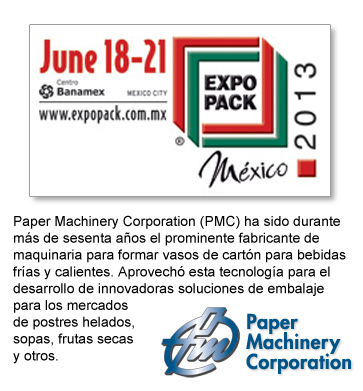 Milwaukee, WI – March 15, 2013
Paper Machinery Corporation will exhibit at EXPO PACK México 2013, June 18 – 21. PMC's booth, 1832, is located in the PMMI International Pavilion, USA. The show takes place at Centro Banamex in Mexico City, Mexico.
"We have many customers in Central and South American countries who are very important to us and this show is an ideal opportunity to meet with them as well as new companies," said Scott Eveland, PMC's Vice President of International Sales.
Building on the company's legacy of innovation, representatives of PMC will be on hand to communicate the theme A Revolution in Technology. PMC's philosophy is based on building innovation and advanced technology into every machine they make. The PMC 1002, the company's flagship model, has set the standard for the fastest, most efficient machine in the industry.
PMC leads the cup and container forming industry with servo drive forming and over-wrap machines as well as high speed die-cutting machinery.
"The servo technology and streamline tool sets on our PMC 2000S model allow tool changeovers in less than a single shift," stated Mike Hansen, PMC's Vice President of Packaging. "This makes PMC's servo forming machines ideal for a flexible production environment."
PMC's booth will feature displays of hot and cold drink cups, innovative non-round containers, and award winning packages for a wide range of markets. Brochures, specification sheets and videos will also be available.

About EXPO PACK Mexico 2013

25,000 customers/buyers from over 40 countries will attend EXPO PACK México 2013.
Packaging professionals from all major Mexican States attend the event and in 2012, buying groups from Costa Rica and Guatemala attended. Attendees include packaging and processing professionals from a wide range of industries, including food, beverage, pharmaceutical, personal care, graphic arts, chemical, electronics, textiles and automotive. PMMI organizes and manages EXPO PACK México. PMMI is a trade association of 600-plus member companies that manufacture packaging, processing and related converting machinery in North America; machinery components and packaging containers and materials. PMMI's vision is to be the leading global resource for packaging, and its mission is to improve and promote members' abilities to meet the needs of their customers.