—
Paper Machinery Corporation Features The Servo-Drive Pmc 2000s Forming Machine At Interpack 2014 – Booth 11/C56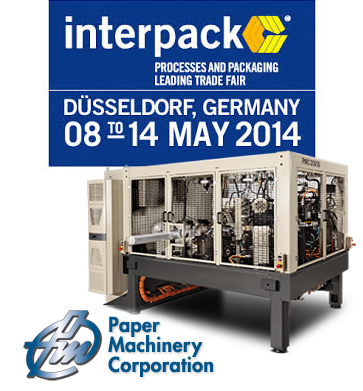 Milwaukee, WI – March 31, 2014
Paper Machinery Corporation is demonstrating the PMC 2000S servo-driven paper cup and container forming machine at Interpack Processes and Packaging exhibition in Dusseldorf, Germany May 8 – 14. The PMC 2000S will form 22-ounce paper drinking cups at 200 cups per minute.
The PMC 2000S is servo-driven, offering flexibility and fast changeovers while producing a wide variety of container sizes and shapes to meet customer demands for a cost-effective forming machine. The machine running at the show is an FHA model that features the PMC patented electric hot-air, heat-seal system for the most dependable bottom and side seals.
Building on the company's legacy of innovation, the PMC 2000S replaces mechanical drive and cams with servo control at all forming stages. Independent servo-motors control different axis, which are synchronized with a central motion control platform. A viewing window has been installed on the electric panel of the machine to showcase the servo-drive control technology.
"The speed of the tooling changeovers has created great interest in this machine," stated Scott Eveland, PMC's vice president of international sales. "PMC's servo forming machines are a great choice for a flexible production environment. Existing users of the PMC 2000S have benefited from the ability to change tools in one shift."
In addition to demonstrating the machine in action, PMC's booth will feature displays of hot and cold drink cups, innovative non-round containers, and award winning packages for a wide range of markets.
About Paper Machinery Corporation
Paper Machinery Corporation is the world's leading source of forming machines for paperboard cups, canisters, and custom packages. PMC manufactures dependable, high quality cup and container forming machines for converters and manufacturers and has more than 2,500 installations worldwide. PMC's corporate headquarters and manufacturing facility is located in Milwaukee, Wisconsin. This facility houses engineering departments and machining centers, as well as full machine assembly and testing centers. For more information, visit www.papermc.com or call Donna Lehto at 414-362-8231.