—
Paper Machinery Corporation announces the new PMC 2001S servo-driven paper cup and container forming machine.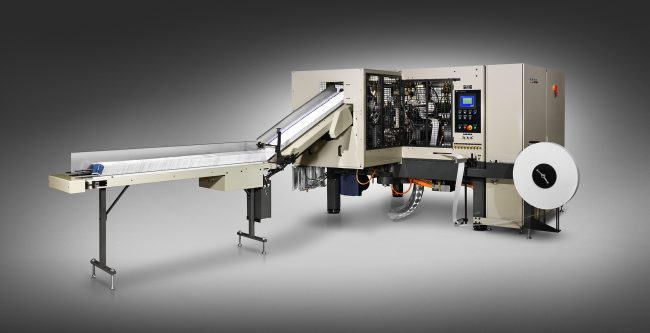 An evolution of the PMC 2000S, the PMC 2001S is a fully servo driven machine that offers flexibility and quick tool changeovers. A tooling changeover on PMC's servo-driven machines can be achieved within an eight-hour shift, making them an excellent choice for small production runs.
To meet customer demands, this machine can produce a wide variety of cups and container sizes and shapes at an increased speed of 240 per minute. The dependable, efficient and reliable PMC 2001S features a servo bottom feeder to bypass splices, a cycle stop to clear blanks, and an idle mode to facilitate maximum production.
"PMC continues to drive product innovation with the introduction of the PMC 2001S," says newly appointed President and CEO John Fortin. "At a time when our customers are searching for increased flexibility, the application of enhancements in servo technology has advanced a machine that can support a broad portfolio of cups and packaging options."
Having positioned itself as a world leader in forming machines for paperboard cups, containers, and custom packages, PMC is at the forefront of engineering innovation with its new high-speed 2001S. PMC's state-of-the-art machinery includes not only the versatile servo drive models, but also the high speed PMC 1003 cup forming machine and overwrapping machines.
Paper Machinery Corporation has a long history of manufacturing custom machinery based on its customers' needs and is set up to continue the development of future production concepts.
For more information, please email Bud Custer (ccuster@papermc.com).