—
Get to Know PMC
New to PMC?  Paper Machinery Corporation, has been the world's leading designer and manufacturer of advanced, cutting edge forming machines for paperboard cups, containers, and custom packages since 1951. PMC provides dependable state-of-the-art forming equipment for converters, food service and beverage company suppliers, food manufacturers and packagers worldwide. Since it's start, Paper Machinery Corporation has served both the United States and the global market with more than 2,500 machine installations in over 40 countries. For the last 70 years, PMC has been headquartered in Milwaukee, Wisconsin and has long been regarded as an excellent place to work, having been the recipient of the Milwaukee Journal Sentinel's Top Work Places award. Headquartered on a 135,000 sq. ft. property with a beautiful facility, PMC additionally supports satellite offices in China and Japan. The Milwaukee property has 110,000 sq. ft of manufacturing and assembly space in addition to  25,000 sq. ft of newly renovated office space.
Another unique aspect of Paper Machinery Corporation is that our employees are also owners! May 2, 2016 marked the transition to an 100%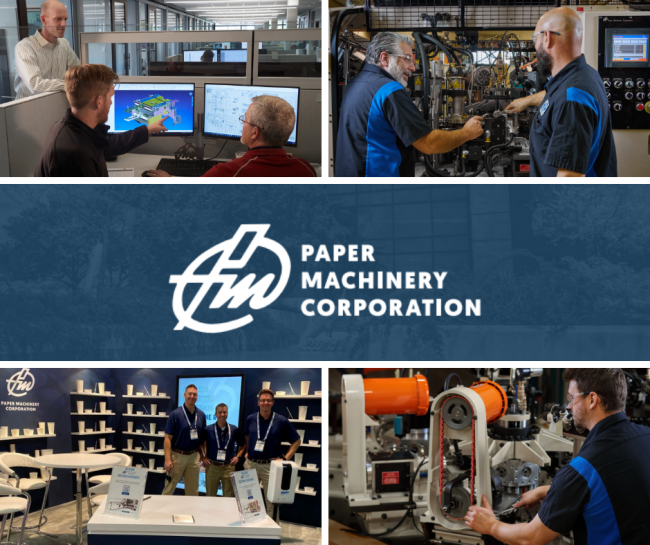 Employee Stock Ownership Plan (ESOP) company. Which means that eligible PMC employees will earn shares of Paper Machinery Corporation stock over time.
With over 250 employees, our Engineering and Design group makes up over 20% of our employee base. Our Engineering group is responsible for the design, development and support of all PMC machinery and equipment. Our experienced and proficient engineers, designers and technicians are always working to set the standard for innovative forming machinery, while leveraging state-of-the-art machining centers alongside the most advanced software available.
To learn more about Paper Machinery Corporation, our latest announcements, Hiring Opportunities, and our Products and Services, please explore our Website, LinkedIn Page, YouTube Channel, and Facebook Page Linked Below!
LinkedIn: https://www.linkedin.com/company/paper-machinery-corp./
YouTube: https://www.youtube.com/user/PaperMachineryCorp/videos
Facebook: https://www.facebook.com/papermachinerycorporation